Mikky Slade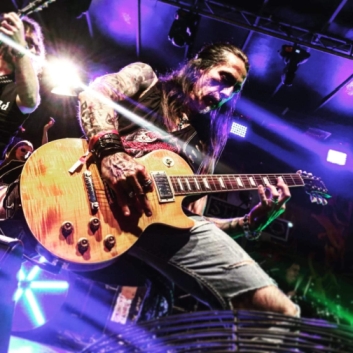 FACTS
NAME: Mikky Slade
LIVES IN: Vienna

Born in Miskolc,
Mikky was a member of Hungary's first Glam Rock Band Marylin.
With the members of Marylin, he joined the glam rock band
Disco Express under contract with Warner Records.
While forming his own project Jolly Roger, he was playing guitar for Dirty Dance.
Holiday Crue was to follow, working with some of the best musicians in Hungary
including Kiss Endi from Hooligans, and Pocky Demon from Kiss Forever Band.
Mikky then embarked on an eastern European tour, playing the lead guitar for Tirana Rockers,
as support band and tourguitarist for Tim Ripper Owens (Judas Priest/Iced Earth).
In 2012 he briefly joined a short lived project i-Roxx
with his long term friend Terry Vision.
In 2012 he moved to Austria, joining Rockhead, whose single 'I'm on my way' was co-written by Mikky.
Eventually the single reached place No.7 in the US Radio Rock Charts.
In 2013 he moved to the UK and rejoined his old i-Roxx bandmate Terry, formal V.O.A.
He also played 2 European Tours with Jon Lord (Keyboarder from Deep Purple).
Bands:
Professional Guitarplayer of
Ex Disco Express, HU
Holiday Crüe, HU
Tirana Rockers, HU
Jon Lord, E
Jolly Rogers, HU
Dirty Dance, HU
Chris Rockhead, A
Stiletto Rockband, A
LINKS:
Mikky Slade on Facebook