The Wonderful Sir Martin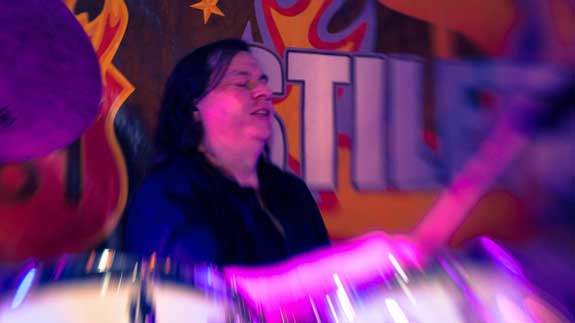 FACTS
NAME: The Wonderful Sir Martin
BORN: 23.3.1972
LIVES IN: WIEN
FAVORITE BAND: Black Sabbath, Henry Rollins
FAVORITE RECORD: Changes every day
FAVORITE MOVIE: Halloween
FAVORITE TV-SHOW: Married with Children
FAVORITE FOOD: Pizza
FAVORITE DRINK: Coke
WHAT I WANT THE WORLD 2 KNOW: Nothing
HISTORY
It all started in favoriten. When I was younger I visited the school in ettenreichgasse, vienna. There I met a boy called patrick who could play guitar and he decided to found a band, what a glorious idea.
We already had a drummer, so i took the bass guitar, but i always thought drumming is much cooler than playing the bass (don't let Tommy read this).


The band splitted and now i had a chance to be the drummer in the next line-up. We searched for a bass player and found one called robin (not the sidekick of batman...) the name of this band was: The Amazing Future Flowers.
Our first concert was in schwechat at the "ueduewuedue" where I started my singer career and sung "Paranoid" in front of approx. 150 people. Ozzy would have love that. Then we took the arena. I was a little nervous, cause we played the big hall, with 1200 in the audience........

Then we played another club-gig in vienna.
Our rehearsal were in the 4th district, and with robin in the 18th district of vienna, in robins house (in the washhouse, how romantic).
R. (robin will be shorten now because it's a long word) had a friend called rudi, who also lived in the same district. Rudi was also a drummer in a band called "beer-revolution" and a roadie for ballroom-blitz. R. was more interested in other things than music at this point, and at one day, i was sweet 18, as rudi asked me if i'm interested in a roadie-job in england, i said yes.
Well that's how I met the balls (ballroom blitz).
The tour was about 3 weeks long, and after my return to austria, "The Amazing Future Flowers" split up.
6 months without a band, and the drum-set in my room followed. And then I joined "raeumungsalarm" a band I had known for long (they did the arena-gig with us). after that ballroom blitz also splitted. Their bass player joined us, his brother, owner of the jack daniels studio also played with us.

years after that the phone rang, and a guy called mr.crazy stiletto asked if I'm interested in rehearsing sometimes with him, cause he had a drummer at this time, who had not that much time for rehearsing. It was kay-be. I said "why not?" and thats where the misery started. Well, because of my wonderful drumming style I'm with the band since then.

No guarantee of completeness. Public performance only with the written permission of The Wonderful Sir Martin.

LINKS:
TWSM on Facebook